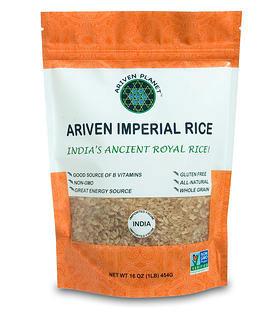 Ariven Imperial Rice is here!   Debut Promo Special 40% Off for a limited time only!   Single 1lb bag normally $5. Sale price is $3 Case of 12 pouches normally cost $36. Sale price is $22 Sensitive Planet is pleased to announce that our Ariven Imperial Rice is finally here! Our special Ariven Imperial Rice is the fir...Read more
---
Ariven Imperial Rice is here!
Debut Promo Special 40% Off for a limited time only!
Single 1lb bag normally $5. Sale price is $3
Case of 12 pouches normally cost $36. Sale price is $22
Sensitive Planet is pleased to announce that our Ariven Imperial Rice is finally here! Our special Ariven Imperial Rice is the first of our 'intelligent' Non-GMO, indigenius food product born from the Ariven Vision*.
Ariven Imperial Rice is a royal heirloom rice once reserved only for the royal families of India for thousands of years. It is Non-GMO verified and a good source of B Vitamins. We are the first company to make this rice available in the West!

Ariven Imperial Rice is unique because it contains the nutrition of a whole grain, yet it has the soft and fluffy texture of white rice. It is a healthy rice that kids and parents love! Unlike traditional whole grains that can be hard for many to digest, Ariven Imperial Rice is light and easy on the stomach yet very filling and satisfying. This rice is known for its exclusive delicious taste and soft texture. It is nutritionally far more superior than the most common Indian rice: Basmati rice.

Benefits include:
1. Exclusive. We are the first and only company who has brought this rice to the West!

2. Non-GMO Verified

3. No artificial fertilizers
4. No synthetic Pesticides
5. Masters of Taste Champion

6. Grown in unique soil on oldest volcanic landmass
7. 2x,2x,2x Twice the water, cooking time, twice time to grow = more nutrients
8.Par-boiled to drive nutrients from the outer inedile husk deep into kernal
9. Lightly milled to keep outer bran layer in tact
10.Soft, fluffy texture of white rice, delicious nutty taste, nutritionally dense-b vitamins for energy
11 .Kid approved
12. Glutten free and easily digestible
13. Global sustainable agriculture
14. Animal compassion
15. Feed hungry people here and in India
[The Ariven Vision creates sanctuaries for rescued retired cows, develops biodynamic land to grow organic food with a portion of food to feed the hungry. www.ariven.org
Ariven Planet was born from a deep desire to create self-sustaining, eco-friendly animal sanctuaries that will provide the highest quality, natural food products while nourishing Planet Earth for future generations.]
DID YOU KNOW? Aged rice is highly prized and sought after in India. It is believed that aged rice will cook better and result in a lighter, fluffier texture! Ariven Imperial Rice is shelf stable and can be stored for many years in its airtight package. Go ahead and experiment to taste the difference! The only hard part will be making the rice last so long!
Each carton contains 12 bags of rice each weighing one pound.