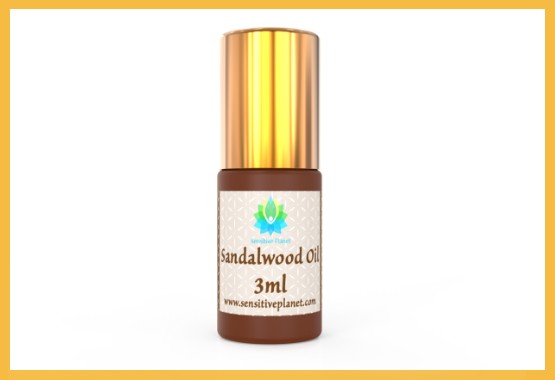 Roll-on Oil obtained using the highest quality processing with sustainably sourced Sandalwood. Sandalwood Oil is one of the most sacred herbs of the yoga, Ayurveda tradition. Calming Sandalwood is a wonderful meditation tool. Its sedative property clears stress from the nervous system. Essential oil applied to the thir...Read more
---
Roll-on Oil obtained using the highest quality processing with sustainably sourced Sandalwood.
Sandalwood Oil is one of the most sacred herbs of the yoga, Ayurveda tradition.

Calming Sandalwood is a wonderful meditation tool. Its sedative property clears stress from the nervous system. Essential oil applied to the third eye awakens intelligence and lifts depression. Applied to vital points alerts the mind to optimism and it promotes mental clarity, focus, and balance. Sandalwood oil has been used to treat infections, coughs, acne and it relieves itching, inflammation, and dehydrated skin.
Apply Sandalwood Oil on vital points to meditate deep.
Excellent meditation tool.
Applying to the third eye assists in greater awareness in meditation.
The fragrance of Sandalwood Oil provides immediate stress relief, clarity of mind, and inner harmony.
Sandalwood Oil by itself is high vibrational as a sacred altar item.
Sandalwood Oil represents the energies of abundance, Goddess Laxmi.
Excellent effect as a deodorant against body odors.