Liquid error (templates/product line 2): Could not find asset snippets/product-content.zipifypages.liquid
(Digital Download)-Siddhi Ganapathy Mantra Chant: Ignite Your Souce of Inner Power CD: 30 minutes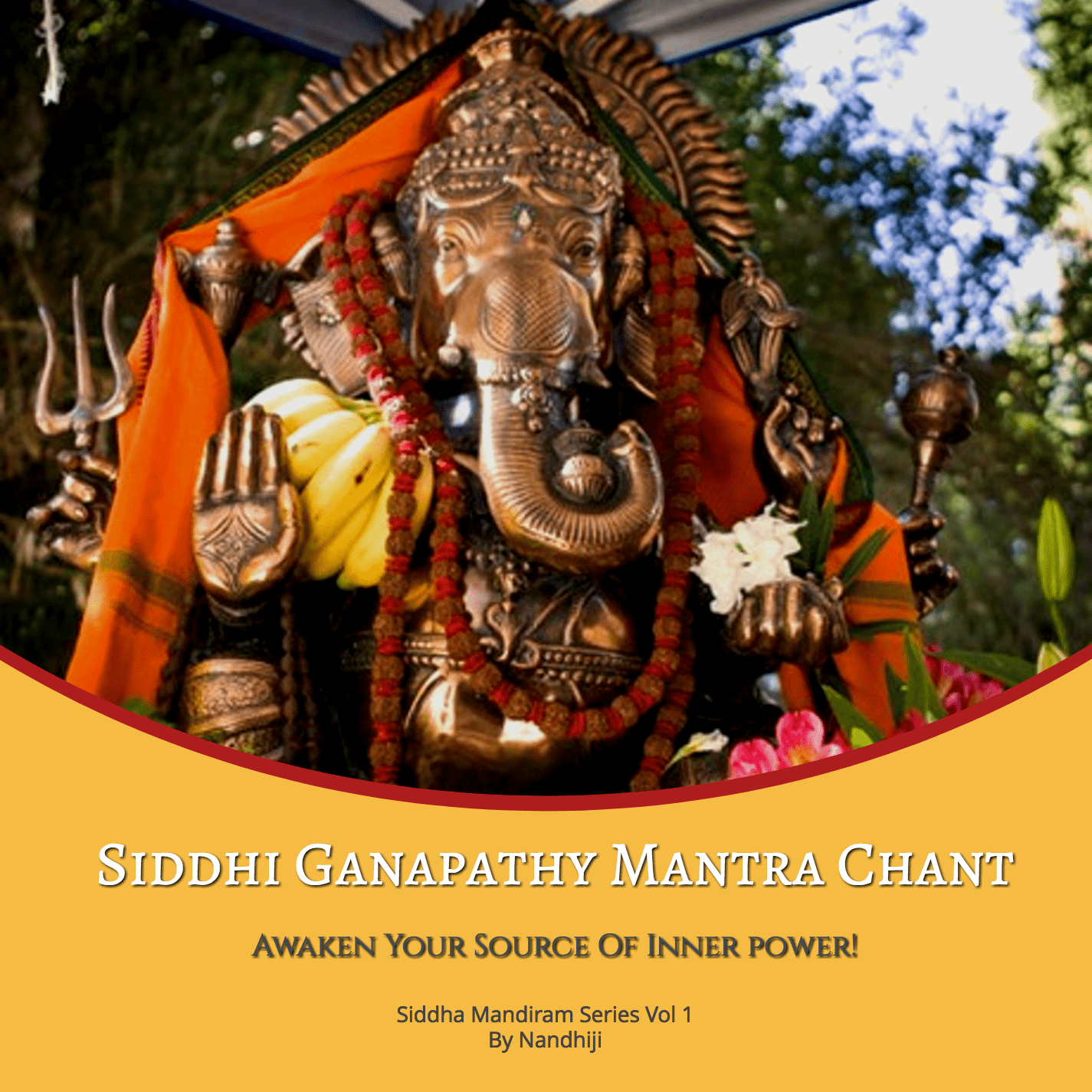 Awaken our Inner Lamp- our own Guru, Lord Ganapathy by lighting our Root Chakra with the mystical empowered Siddha Mantra. Ganesha or Ganapati, the Lord of the Root Chakra is the first step of worship. Awakening the Roots, Mother Kundalini awakens and our spiritual journey has begun! By invoking Ganapathy our obstacl...Read more
---
Awaken our Inner Lamp- our own Guru, Lord Ganapathy by lighting our Root Chakra with the mystical empowered Siddha Mantra.
Ganesha or Ganapati, the Lord of the Root Chakra is the first step of worship. Awakening the Roots, Mother Kundalini awakens and our spiritual journey has begun! By invoking Ganapathy our obstacles and challenges are transformed to with opportunities, good luck and successful completions. This mantra CD invokes Ganapati through a powerful Siddha Mantra "Aum Reeng Ang Ung Ganapathy Ye Namaha"
This mantra has never been revealed to the world before and it is only with the blessing of Nandhiji's Guru Siddhar Rajaswamy Guruji that this powerful chant is being released to humanity to awaken, guide, protect and bless all who chant and invoke Lord Ganesha.
Siddhi Ganapathy Mantra        




 

 
 

Benefits of the Siddhi Ganapathy mantra:

- Transforms all limitations such as financial, health and relationship shortcomings into a positive and abundant reality that is conducive to harmony in our life.
- Dissolves karmic obstacles that block our path towards realization and enlightenment.
- Awakens us to the inner light.
- Enables us to lead a life of fulfillment and grace
- Builds a strong foundation to strengthen our spiritual practice.
- An awake Root Chakra brings peace, harmony, love, tranquility, and abundance for all of humanity.

 

 

 

DIGITAL DOWNLOAD 

 

Liquid error (templates/product line 15): Could not find asset snippets/product-content.zipifypages.liquid