SivaSivaa - Siddha Guided Chakra Meditation with Nandhiji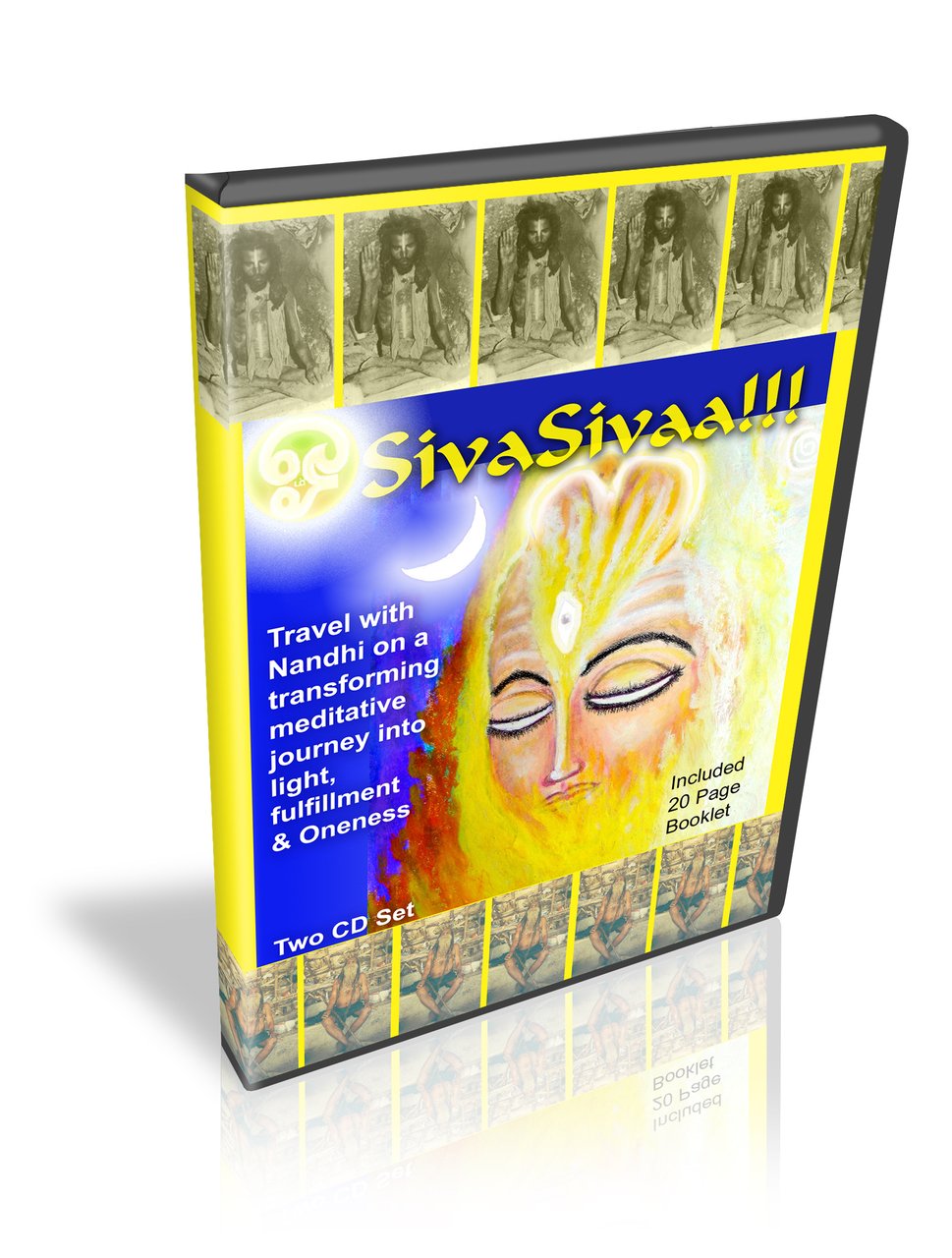 SivaSivaa - Siddha Guided Chakra Meditation with Nandhiji  Awaken & Light the Inner Fire. Be the Yogi!  : [ Also available as Digitial Download  here ]           [ To purchase in India here ]   = Light the Inner Lamp Initiation - be the Yogi. Lighting the Inner Lamp, we awaken our own inner Guru. = Learn a simple, ...Read more
---
SivaSivaa - Siddha Guided Chakra Meditation
with Nandhiji 
Awaken & Light the Inner Fire. Be the Yogi! 
: [ Also available as Digitial Download

 here ]           
[ To purchase in India here ]
= Light the Inner Lamp Initiation - be the Yogi. Lighting the Inner Lamp, we awaken our own inner Guru.
= Learn a simple, powerful & joyful 24/7 meditation utilizing yogic breath techniques.
= Tune into a journey within that blossoms each wheel of Consciousness - the chakras - to recreate dynamic realities.
= Receive the empowering grace connect of lineages of Siddha Masters/Gurus through the mantras, the Deeksha (grace blessings).
= Join our privileged Ariven Circle to interact, upgrade, learn, be guided continually with Nandhiji and the Community- upon doing the SivaSivaa initiation.
= Attain the Super-mind Consciousness states of "turiya" to create optimal realities for ourselves and all of humanity.
Nandhiji is a mystic, yogi, visionary, humanitarian, artist, ecstatic chant musician, author and teacher. Nandhiji represents the path of the Liberated.

Nandhiji shares the rare wisdom and teachings of the seldom revealed source of yogic wisdom of the Siddha Sages, the liberated mystics of South India.

Nandhiji was gifted with a childhood experience of the Divine when he was four years old. Later as a young adult while leading an active life of family, he was initiated through a death experience by his first Guru, and his journey into the mystical realm of the Siddhars as a yogi began.

After years of seeking "wholeness" through connection with the inner world, Nandhiji woke up to understand his highest purpose: to uplift humanity in consciousness. Nandhiji's experiences ranged during these times from firm yogic resolve in undertaking pilgrimages to sacred temples and hidden sanctuaries across India, to epic adventures in the spiritual wilderness of South India, to sojourns in forest shrines and caves—all under the guidance his Gurus, and through yoga, worship, meditation and solitude, to attain the wholeness to know his purpose and serve in the doings.

Download the short Autobiography of Nandhiji here
About Siva Sivaa Meditation 2 CD Set [Audio] 
CD One: Initiation Inner Journey with Nandhiji
CD Two: Ancient Siddhar Mantra Chants
Detailed 20 Page Booklet leads you through each step in an easy to understand way for clarity in mantras, yogic techniques and explanations.
SivaSivaa 2 CD Set 
Testimonials:
"I cannot say enough about this CD set and booklet. Honestly, I can't even put into proper words how transformational it is. Going through this process, has been the most profound spiritual event of my entire life. Thank you!"

Alicia Kaemer
"Siva siva is like Taking an elevator up to the penthouse and looking out over the world. I chant every morning and feel the grace flowing through."
Gantkowski
"While my inner journey was jump-started by Kundalini awakening before I connected with you, Nandhi, your Siva Sivaa teachings and mantra practices (which I do every day) help to "focus" the fire, to raise the Light, and point to the Be. It's my sense that anyone who would want to take the inner journey and receive our Guru's grace, would find Siva Sivaa a gentle and profound path which to follow."
Christine Onga Dehlinger