Breathe in Bliss
Immerse Yourself in the Essence of South India with Exotic Flower Fragrance Oils
All-natural and alcohol-free perfumes offer a myriad of benefits that set them apart from conventional fragrances. Firstly, these perfumes are crafted with a focus on using only natural ingredients sourced from plants, flowers, and essential oils. By avoiding synthetic chemicals and artificial additives, they minimize the risk of skin irritation and allergic reactions. Many people with sensitive skin find all-natural perfumes to be a gentler alternative that allows them to enjoy the pleasure of wearing fragrance without worry.
Traditional perfumes often contain a high percentage of alcohol, which not only contributes to the evaporation of the scent but can also be harmful & dehydrating to your skin. In contrast, alcohol-free fragrances tend to have a longer-lasting scent, as the absence of alcohol prevents the fragrance from evaporating quickly. Our fragrance oils are more concentrated without any synthetic or harsh fillers so they stick to your skin longer and don't contain dehydrating chemicals.
The charm of our all-natural and alcohol-free fragrances lies in their ability to truly capture the essence of nature. Each fragrance carries the authentic aroma of real botanicals, allowing wearers to experience the pure beauty of flowers, plants, and other natural elements. The complexity and depth of these perfumes come from the intricate blending of various essential oils, which creates a harmonious symphony of scents. As a result, every application becomes a sensory journey, connecting individuals with the natural world and promoting a sense of well-being and harmony. Choosing all-natural and alcohol-free perfumes not only benefits your skin and the environment but also allows you to embrace a fragrance that is as unique and special as nature itself.
How Our Fragrance Oils Are Made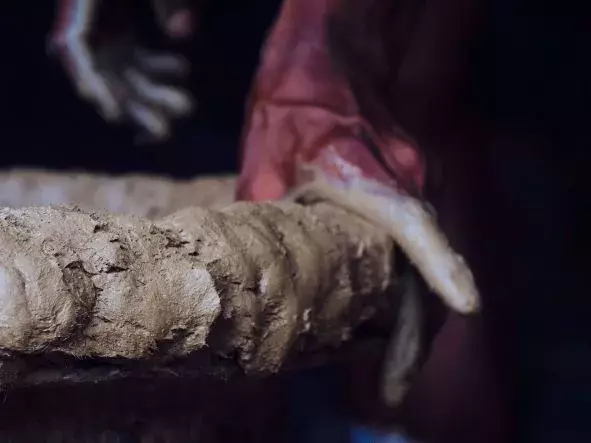 STEP 1
The process is slow and laborious. First, up to forty-five kilos of fragrant materials – for example, rose petals, lotus flowers, or jasmine blossoms – are loaded into the deg. The deg is then filled to the top with water so that the fragrant materials float freely in the liquid, and the lid sealed with a mixture of wet clay, straw, and cotton fibers. The deg rests on top of a clay or brick oven that is maintained at a very low heat throughout the day. Once the fire is lit, it will be kept going for at least eight hours.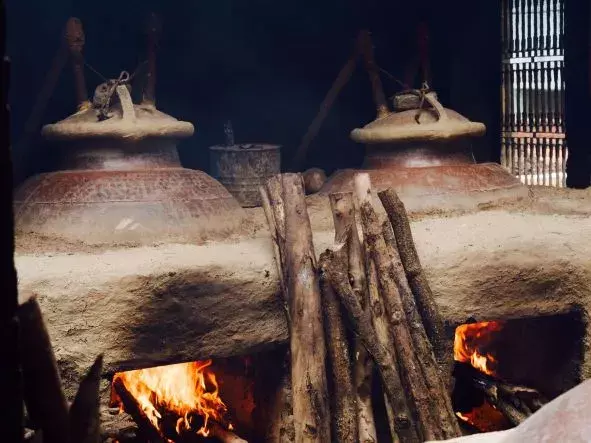 STEP 2
Once the deg is heated, the aromatic vapors begin to build up inside the pot and these then pass through an angled bamboo pipe into the long-necked copper bhapka waiting underneath the deg in a shallow basin of water, which serves to instantly cool the vapors flowing into the bhapka and change it into liquid. The awaiting bhapka will already contain up to five kilograms of pure sandalwood oil, prized for both its beautiful aroma and fixative properties. Indian attar makers are extremely skilled at keeping temperatures steady and low throughout the process, often sponging the deg down with cool water if they feel that it is overheating.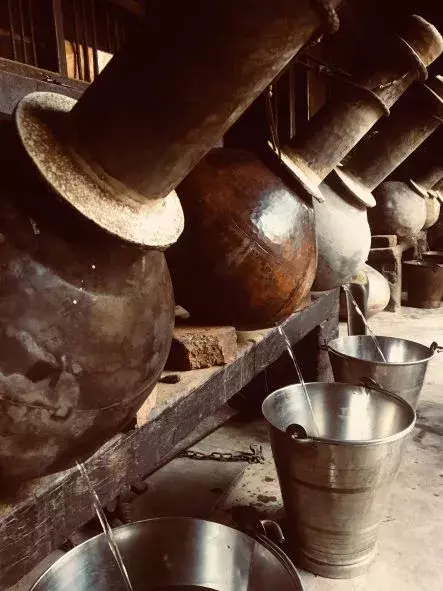 STEP 3
At the end of the day, the fire is extinguished and the liquid in the bhapka is left to cool and settle overnight. In the morning, the water (called a hydrosol) has separated from the oil and is carefully siphoned off to be poured back into the deg for the new days' worth of distilling. Fresh fragrant materials are placed in the deg, along with the hydrosol, and the process is repeated. Most distillations take between ten and twenty days to complete, all the time adding fresh fragrant materials and re-using the hydrosol, which by the end will have passed through the flowers so many times that it itself is fragrant and can be sold for use in skincare and food preparation.
Fragrance and Aromatherapy
Our oils are renowned for their captivating and long-lasting aroma. Many individuals use it as a natural perfume, appreciating its unique scent that is often deeper and more complex than synthetic fragrances. Moreover, certain fragrance oils are believed to have aromatherapy benefits, helping to alleviate stress, promote relaxation, and uplift moods.
Connection to Nature
Our oils are cherished for their ability to evoke the scents of the natural world. They allow people to experience the essence of flowers, plants, and other natural elements, fostering a deeper connection to nature.
Natural & Non-Irritating
Our oils are derived from natural botanical sources such as flowers, herbs, and spices. As a result, they are considered a safer and more skin-friendly alternative to alcohol-based perfumes, especially for individuals with sensitive skin or allergies to synthetic chemicals.