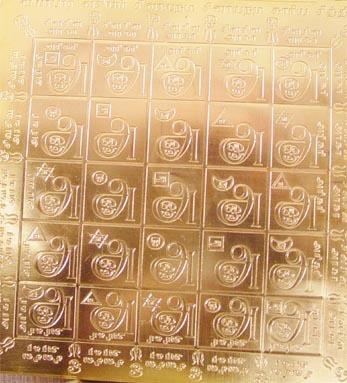 Arakara Yantra: The Yantra of Manifestation     Ideal place for the yantra: Altar or Home & Office This exclusive yantra is from the powerful Siddha mantra that has been passed on by the Siddhars for over thousands of years. The ARAKARA mantra is potent in bringing into manifestation any thought. The ARAKARA yant...Read more
---
Arakara Yantra: The Yantra of Manifestation
Ideal place for the yantra: Altar or Home & Office
This exclusive yantra is from the powerful Siddha mantra that has been passed on by the Siddhars for over thousands of years. The ARAKARA mantra is potent in bringing into manifestation any thought. The ARAKARA yantra works along with any other mantra and enhances it, i.e. while reciting a mantra for Goddess Laxmi with the focus on this yantra, the invoked energy magnifies.
The meaning behind the mantra "ARAKARA" is-
"AAAA" is the primal call to the Absolute in all religions as the sound resonance of "AAAA" in the divine names of God- Allah, Jehova, Rama, Siva...
"RAA" is the energy of the Sun, the energy within fire, the energy of life force- prana.
"KAA" is the grounding of energy, that of Divine Earth.
ARAKARA is the aligning of Source with our human reality where thoughts are empowered into manifestation.
ARAKARA manifests any thought as a blueprint of a plan brought into human reality by invoking divine energy with this powerful mantra. Bringing this secretive mantra power into form through the yantra not only conveys the inherent powerful energy within the mantra but also the grace of the ancient Siddha masters whose presence brought abundance and fulfillment.
The benefits of the sacred Arakara Yantra-
1. Manifestation of inner thoughts and heart's need.
2. Opening ourselves to the ancient subtle energy of higher beings.
3. Allowing abundance in our lives while being guided to detachment.
4.Invoking the presence of the ancient lineage of Siddha, the Sages who attained miraculous powers, the Siddhis.
5. Allowing ourselves to represent the Source as harmony, truth, happiness and love.
6.Aligning our energy to the ancient eternal sound resonance of the Source that brings higher wisdom to our intellect.
Yantra Guidelines
- First purify your body and start with a clear and positive mind frame
- Place in your altar. Ideally- the floor facing north or east, where you will be undisturbed.
- Light the incense and/or a lamp.
- Lay fresh flowers and a fresh fruit on the altar.
- Open the Yantra and place it along with the image of the deity of yantra and your favorite God Form
- Frame the yantra
- Begin meditating with your eyes open on the yantra, and then closing your eyes feel the energies of the yantra and you become One.
- Recite the mantra "ARAKARA" slowly. We recommend you to take theSivaSivaa initiation- the deeper teachings and guidance through the ARAKARA that links breath and mantra resonance through advanced yogic teachings.
Size 5.8 inches x 5.8 inches
Gold plated
Empowered by mantras and blessed in the Ariven Turiya Sakti Temple before being shipped. (For more info on the Ariven Turiya Sakti Temple)