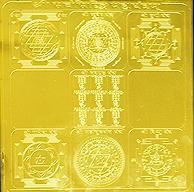 Sarva Siddhi Maha Yantra- The Yantra for Absolute Success! This Yantra is very useful to all those who have begun a path of spiritual practice and find the going sticky or much slower than expected. It is also very useful to those who practice meditation and any form of process that involves breath control. This Yantra...Read more
---
Sarva Siddhi Maha Yantra- The Yantra for Absolute Success!
This Yantra is very useful to all those who have begun a path of spiritual practice and find the going sticky or much slower than expected. It is also very useful to those who practice meditation and any form of process that involves breath control. This Yantra has been specially energized to radiate its beneficial powers. It can be placed in your temple at home, on your worktable, in your cash box or wallet or purse. The most powerful yantra set comprising of the qualities of nine exclusive yantras:

Siddhi, success in undertakings, and intelligence

Wealth, prosperity and good fortune

Attaining all worldly desires & fulfilling all wishes through inner cosmic power & mental strength

Luck in Business, wealth, prosperity and to protect the person from all sorts of dangers

Power, authority, vigor and to overcome enemies, law suits, success in quarrels and competitions

Free the fear of death, grave dangers, fatal diseases and makes him courageous and healthy

Leads us on an enlightened path
Associations
Represents:
Shree Ganesh- Success in our journey
Shree Durga- Protected against karma, ignorance and evil
9 Navagrahas/Planets
Vishnu-Portection from negativity and material abundance
Sudarshan- Protection from all negativity

Purpose: Being graced with Siddhis.
Yantra Guidelines
First purify your body and start with a clear and positive mind frame

Find a place on your altar. Ideally- the floor facing east, where you will be undisturbed.

Light the incense and/or a lamp.

Lay fresh flowers and a fresh fruit on the altar.

Open the Yantra and place it along with the image of the deity of yantra and your favorite God Form

Frame the yantra

Begin meditating with your eyes open on the yantra, and then closing your eyes feel the energies of the yantra and you become One. Mantra "AUM SHAREENG HAREENG SHAREENG TIRU PURA SUNDARIYE NAMAHA" (meaning: Be present as Energy and as Spirit in the three dimensional form as beauty and perfection)
Size: 9 x 9 inches
Gold Plated
Empowered by mantras and blessed in the Ariven Turiya Sakti Temple before being shipped. (For more info on the Ariven Turiya Sakti Temple)