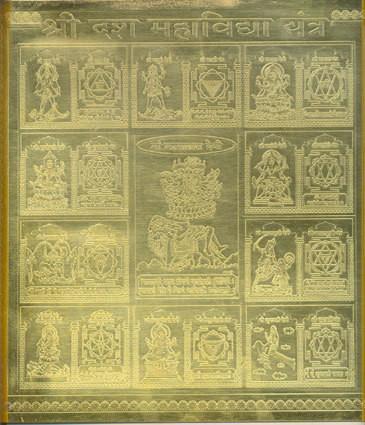 The Ten Maha Vidyas are known as Wisdom Goddesses. The spectrum of these ten goddesses covers the whole range of feminine divinity, encompassing horrific goddess's at one end, to the ravishingly beautiful at the other. Mahavidya means (Maha - great; vidya - knowledge) Goddesses of great knowledge. These Goddesses are: ...Read more
---
The Ten Maha Vidyas are known as Wisdom Goddesses. The spectrum of these ten goddesses covers the whole range of feminine divinity, encompassing horrific goddess's at one end, to the ravishingly beautiful at the other. Mahavidya means (Maha - great; vidya - knowledge) Goddesses of great knowledge. These Goddesses are:

Kali - Goddess of Time

Tara - Goddess of Compassion

Shodashi- Goddess of Youth

Bhuvaneshvari- Goddess of Manifestation

Chinnamasta - Goddess of Yogic Wisdom

Bhairavi the Goddess of Tantra

Dhumawati Goddess of Dissolution

Bagalamukhi- Goddess of Destruction

Matangi- Goddess of Unconditional Love

Kamala- Goddess Laxmi, Abundance, Beauty and Grace.
Purpose: Devotion to ten incarnations of Devi. Her blessings provide bhoga (fulfillment of materialistic desires) and moksha (spiritual liberation).
Yantra Guidelines
First purify your body and start with a clear and positive mind frame

Find a place on your altar. Ideally- the floor facing east, where you will be undisturbed.

Light the incense and/or a lamp.

Lay fresh flowers and a fresh fruit on the altar.

Open the Yantra and place it along with the image of the deity of yantra and your favorite God Form

Frame the yantra

Begin meditating with your eyes open on the yantra, and then closing your eyes feel the energies of the yantra and you become One.

Recite the mantra of the Goddess - 9, 27, 54 or 108 times or any number of times with every breath- "Aum Aym Gauri Aym Gauri Aym Parameswari Swaha Swaha"
Size 9 " x 9 "
Gold Plated

Empowered by mantras and blessed in the Ariven Turiya Sakti Temple before being shipped. (For more info on the Ariven Turiya Sakti Temple)