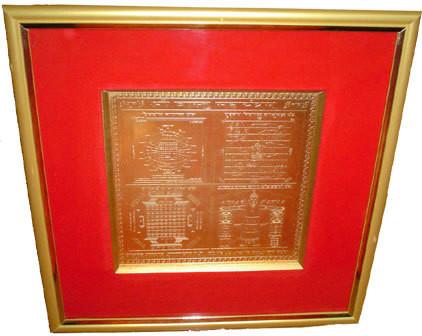 A yantra must for every household, business premises for creating and maintaining good energies while removing past negative energies.It provides a good flow of energy to the whole premises. A combination of 4 most powerful Vaastu yantras: Dikdosh Nashak, Grihdosh Nivarak Vaastuchakra, Vaastudosh Nashak, Vaastudosh Nas...Read more
---
A yantra must for every household, business premises for creating and maintaining good energies while removing past negative energies.It provides a good flow of energy to the whole premises. A combination of 4 most powerful Vaastu yantras: Dikdosh Nashak, Grihdosh Nivarak Vaastuchakra, Vaastudosh Nashak, Vaastudosh Nashak Vyapar Vriddhi Indrani Yantras.

Purpose: For those moving into a new house, office, premises and those seeking to change the energies of the premises.

Yantra Guidelines
First purify your body and start with a clear and positive mind frame

Find a place on your altar. Ideally- the floor facing east, where you will be undisturbed.

Light the incense and/or a lamp.

Lay fresh flowers and a fresh fruit on the altar.

Open the Yantra and place it along with the image of the deity of yantra and your favorite God Form

Frame the yantra

Allow the good energies to flow and create harmony, inspiration and fulfillment to all in the premise

Frame: 10.75 x 10.75 inches Yantra: 6 x 6 inches
Gold Plated
Empowered by mantras and blessed in the Ariven Turiya Sakti Temple before being shipped. (For more info on the Ariven Turiya Sakti Temple)