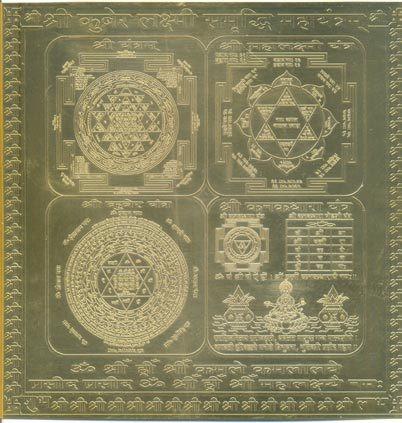 A yantra that brings the four deities of material wealth and prosperity into one entity of energy.A combination of 4 most powerful wealth and prosperity yantras made in thick copper sheet and 24 carat Gold plating. Shri Yantra- Goddess Energies of ManifestationShri Mahalaxmi- Goddess of Spiritual and Material Abundance...Read more
---
A yantra that brings the four deities of material wealth and prosperity into one entity of energy.

A combination of 4 most powerful wealth and prosperity yantras made in thick copper sheet and 24 carat Gold plating.
Shri Yantra- Goddess Energies of Manifestation
Shri Mahalaxmi- Goddess of Spiritual and Material Abundance
Shri Kuber- Divine Grace of Material
Wealth Shri Kanakdhara Yantras- The Siddhi of immense wealth
Purpose:
? Bestows wealth, prosperity and good fortune on the worshipper.
? Worshipper never lacks abundance in material wealth.
? Source of attaining all worldly desires & fulfilling all wishes through inner cosmic power & mental strength.
Yantra Guidelines
First purify your body and start with a clear and positive mind frame

Find a place on your altar. Ideally- the floor facing east, where you will be undisturbed.

Light the incense and/or a lamp.

Lay fresh flowers and a fresh fruit on the altar.

Open the Yantra and place it along with the image of the deity of yantra and your favorite God Form

Frame the yantra

Begin meditating with your eyes open on the yantra, and then closing your eyes feel the energies of the yantra and you become One.

Recite the mantra of Goddess Mahalaxmi slowly, 9, 27, 54 or 108 times- "Aum Shreem Hreem Kleem Aym Sau Maha Laxmiye Namaha"
Size 9" x 9"
Gold Plated
Empowered by mantras and blessed in the Ariven Turiya Sakti Temple before being shipped. (For more info on the Ariven Turiya Sakti Temple)