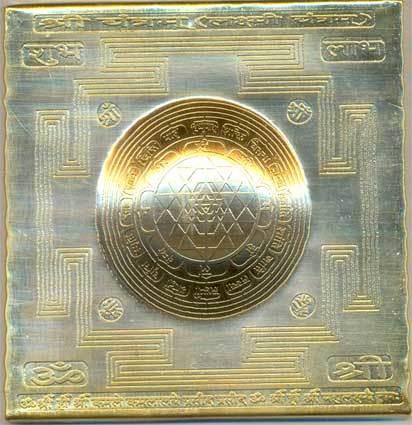 Worship of the Goddess creates more love! Worship of the Goddess by humanity enables enduring peace, harmony and abundance.   The Goddess is represented in a triangle and Her various forms of representations in creation, sustenance and destruction as Cosmic form is represented in the Sri Yantra. Through these triangles...Read more
---
Worship of the Goddess creates more love! Worship of the Goddess by humanity enables enduring peace, harmony and abundance.
The Goddess is represented in a triangle and Her various forms of representations in creation, sustenance and destruction as Cosmic form is represented in the Sri Yantra. Through these triangles the entire Cosmic Energy of God in all forms are brought into the yantra energy.


Sri Yantra is one of the most auspicious, important and powerful Yantras, which not only gives the maximum benefit, but also proves beneficial for almost everybody. It is the source of attaining all worldly desires & fulfilling all wishes through inner cosmic power & mental strength. "Sri Yantra" - Sri meaning spiritual and material wealth and Yantra - Meaning "Instrument". Sri Yantra has that unexplained power to fulfill all our wishes and change our life for the better. Sri Yantra is definitely the answer to all the problems and negativity in our life. Any Person using Sri Yantra achieves much greater affluence, peace and harmony. Sri Yantra helps in breaking all the Obstacles in our life.


Sri Yantra Sacred Geometry - help in clearing all the negative energies -
the fog that surrounds our life - standing in our way of peace, prosperity and harmony and make everything work for us with divine grace. Sri Yantra is the multi pyramid geometric grid in the 2 dimensional and 3 dimension form. In the 2 dimension form it is a symbol of 9 intertwined isosceles triangles- as in our human reality where we experience dualities-wisdom and sorrow, happiness and sadness etc. The 3 dimensional form is the all encompassing nature of energy in the multitude trinities that enable each of us to evolve as body, mind and Spirit.

Sri Yantra is the source of supreme energy and energy is nothing but another form of element in the shape of waves and rays. Sri Yantra is highly sensitive and has magnificent magnetic powers. Sri Yantra is said to be a divine store-house of energy which pick up particular cosmic ray wave emitted by the planets and other universal objects and transform them into constructive vibrations. These are then transmitted to the surroundings where the Sri Yantra is placed, thus creating extremely positive energy fields. Sri Yantra is credited with supreme hidden powers which can be noticed within a short span.
Purpose: Devotion to ten incarnations of Devi. Her blessings provide bhoga (fulfillment of materialistic desires) and moksha (spiritual liberation).
Yantra Guidelines
First purify your body and start with a clear and positive mind frame

Find a place on your altar. Ideally- the floor facing east, where you will be undisturbed.

Light the incense and/or a lamp.

Lay fresh flowers and a fresh fruit on the altar.

Open the Yantra and place it along with the image of the deity of yantra and your favorite God Form

Frame the yantra

Begin meditating with your eyes open on the yantra, and then closing your eyes feel the energies of the yantra and you become One.

Recite the mantra of the Goddess - 9, 27, 54 or 108 times or any number of times with every breath- "Aum Sakthi Aum Sakthi Aum Sakthi Aum"
Size 12 " x 12 " with Sri Yantra center dome
Gold Plated 24 carat gold.
Empowered by mantras and blessed in the Ariven Turiya Sakti Temple before being shipped. (For more info on the Ariven Turiya Sakti Temple)